Toyama
Jump to navigation
Jump to search
TYM-1A

General Data
'Mech Type
BattleMech
Class
HEAVY
Weight
75T
Stock Role
Multi-Role BattleMech
Stock Specifications
Hardpoints
Ballistic: 2
Energy: 5
Missile: 2

Speed
5/8/0
Firepower
Max Damage: 290
Max Stability: 35
Max Heat: 0
Durability
Armor: 960
Structure: 571
Heat Efficiency
Sinking: 84
Alpha: 106
Melee
Kick: 75
Punch: 38

Stock Equipment
Engine
XL Engine
Core
300
Heat Sinks
Heat Sink Kit (DHS)
E-Cooling
+2
Gyro
Toyama Easy to Pilot (Fixed)
Structure
Endo-Steel Structure (Fixed)
Armor
Standard Armor
Left Torso
Heat Sink (D)
Heat Sink (D)
M Laser
M Laser
M Laser
Right Torso
Guardian ECM
Ammo LRM
Ammo LRM
LRM20
Left Arm
LBX AC/10
Ammo LBX/10 CLUSTER
Ammo LBX/10 SLUG
Right Arm
ER L Laser
ER L Laser
Description
Built due to an awkward exchange of technology between the Free Worlds League and the Word of Blake, the Toyama was designed by Dr. Thaddeus Anable and then given to the Word of Blake through an agreement made by Captain-General Thomas Marik. The Toyama is intended to be a multi-role BattleMech that can operate somewhat independently of supply lines. The 'Mech is built on a lightweight Endo Steel chassis which supports a 300-rated XL engine. Armed with a LRM-20 and twin ER Large Lasers for ranged combat and a LB-10X Autocannon and triple Medium Lasers for close-ranges, the Toyama is effective at any distance.
Bonuses
Mech Quirk: Easy To Pilot
+20% walking distance

Pilot Affinity: Encouraging
+2 resolve whenever resolve is gained
Factions
Stock Loadout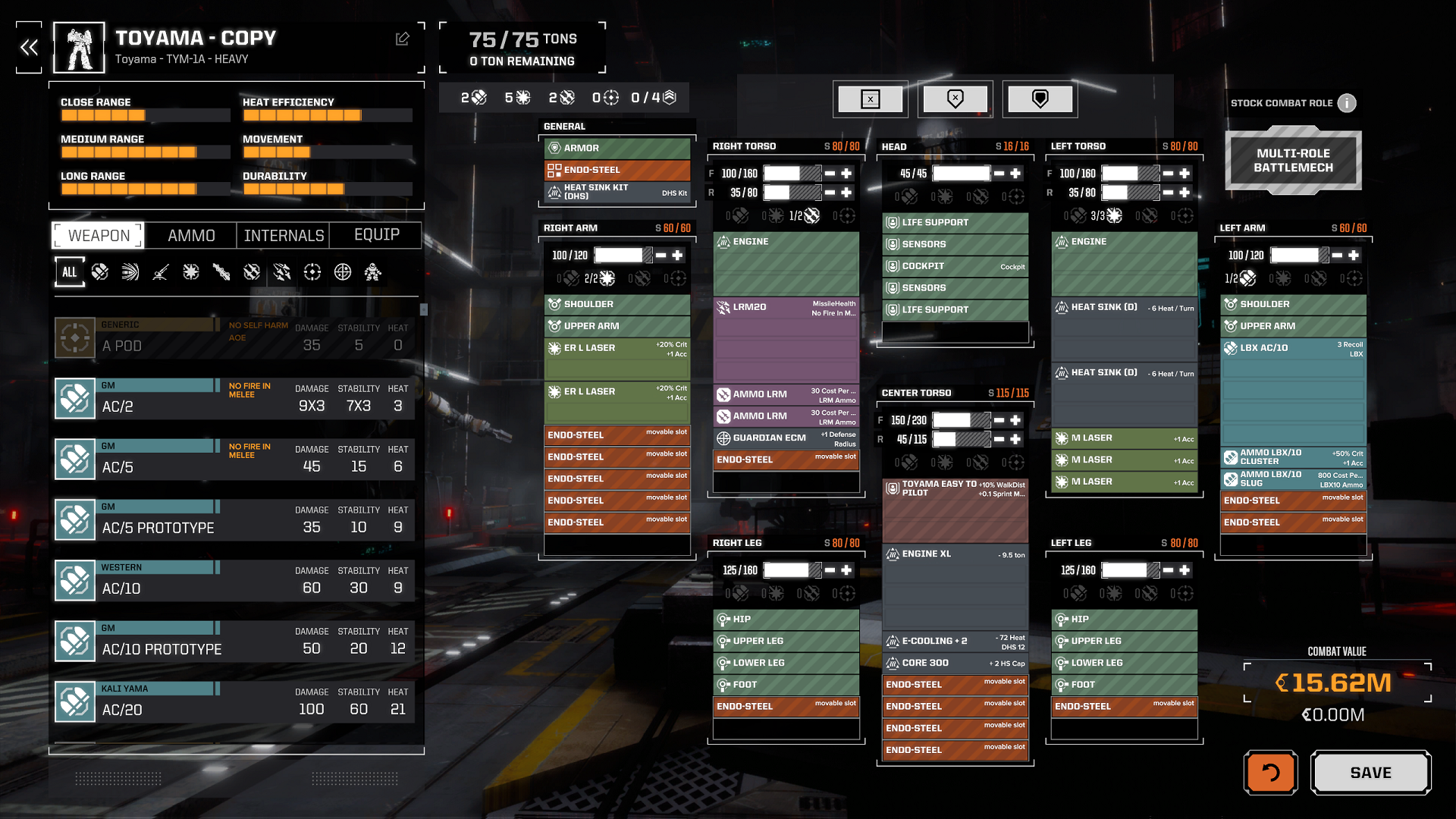 TYM-MKD

General Data
'Mech Type
BattleMech
Class
HEAVY
Weight
75T
Stock Role
Multi-Role BattleMech
Stock Specifications
Hardpoints
Ballistic: 2
Energy: 5
Missile: 2

Speed
5/8/0
Firepower
Max Damage: 168
Max Stability: 135
Max Heat: 10
Durability
Armor: 1385
Structure: 571
Heat Efficiency
Sinking: 96
Alpha: 73
Melee
Kick: 75
Punch: 38

Stock Equipment
Engine
XL Engine (C)
Core
350
Heat Sinks
Heat Sink Kit (DHS)
E-Cooling
+4
Gyro
Toyama Easy to Pilot (Fixed)
Structure
Endo-Steel Structure (Fixed)
Armor
Ferro-Fibrous Armor (C)
Left Torso
Haywire M Laser
Haywire M Laser
Improved Heat Bank
Right Torso
Heat Sink (D)
Left Arm
Heavy Rifle
Magnetic Harpoon
Right Arm
Enhanced ER PPC
Heat Sink (D)
Special Note: The Toyama TYM-MKD is a custom Community Content 'Mech.
Description
Made with a real mélange of weaponry and equipment, the Toyama TYM-MKD is a Word of Blake weapons test of the new Magnetic Harpoon weapon system. To back up the experimental weapon are a pair of equally experimental Haywire Medium Lasers, as well as a salvaged Clan-spec Enhanced ER PPC. Weirdly, the final weapon is an ancient Heavy Rifle for reasons unknown. A Clan Extra-Light 360-rated engine powers the mech to reasonable speeds while 16 DHS keep it all frosty.
<b><color=#e51717>COMMUNITY CONTENT</color></b>

Bonuses
Mech Quirk: Easy To Pilot
+20% walking distance

Pilot Affinity: Encouraging
+2 resolve whenever resolve is gained
Factions
Stock Loadout