Cazador/Reptar
Jump to navigation
Jump to search
CZD-1

General Data
'Mech Type
BattleMech
Class
LIGHT
Weight
35T
Stock Role
Clan MilitiaMech
Stock Specifications
Hardpoints
Speed
8/8/0
Firepower
Max Damage: 110
Max Stability: 15
Max Heat: 0
Durability
Armor: 480
Structure: 291
Heat Efficiency
Sinking: 40
Alpha: 24
Melee
Kick: 35
Punch: 18

Stock Equipment
Engine
Standard Engine
Core
175
Heat Sinks
Heat Sink Kit (SHS)
E-Cooling
None
Gyro
Standard Gyro
Structure
Endo-Steel Structure (C) (Fixed)
Armor
Standard Armor (C)
Center Torso
Heat Sink
Supercharger
Left Torso
Heat Sink
S Pulse (C)
Right Torso
Heat Sink
Ammo LBX/10 CLUSTER
Ammo LBX/10 SLUG
S Pulse (C)
Right Arm
LBX AC/10 (C)
Description
While its progenitor the Reptar was considered middling even by IndustrialMech standards, the Goliath Scorpions eventually produced the Cazador off the Reptar's chassis. Upgraded to full Clan-spec technology and given real armor and weapons, the Cazador proved an able, if unimpressive, militia design. Eventually, it proliferated throughout the other Clans in the Inner Sphere for their militia needs. Armed with a LB-10X Autocannon and twin Small Pulse Lasers, the Cazador is functional, if not amazing.
Bonuses
Mech Quirk: Clan Mech
+10% walking distance, +10% sprinting distance, +10% jump distance, +1 accuracy with ranged weapons, -6 heat at the end of the turn, -30 melee accuracy

Pilot Affinity: Sturdy
Gains 2 extra pilot hits
Factions
Stock Loadout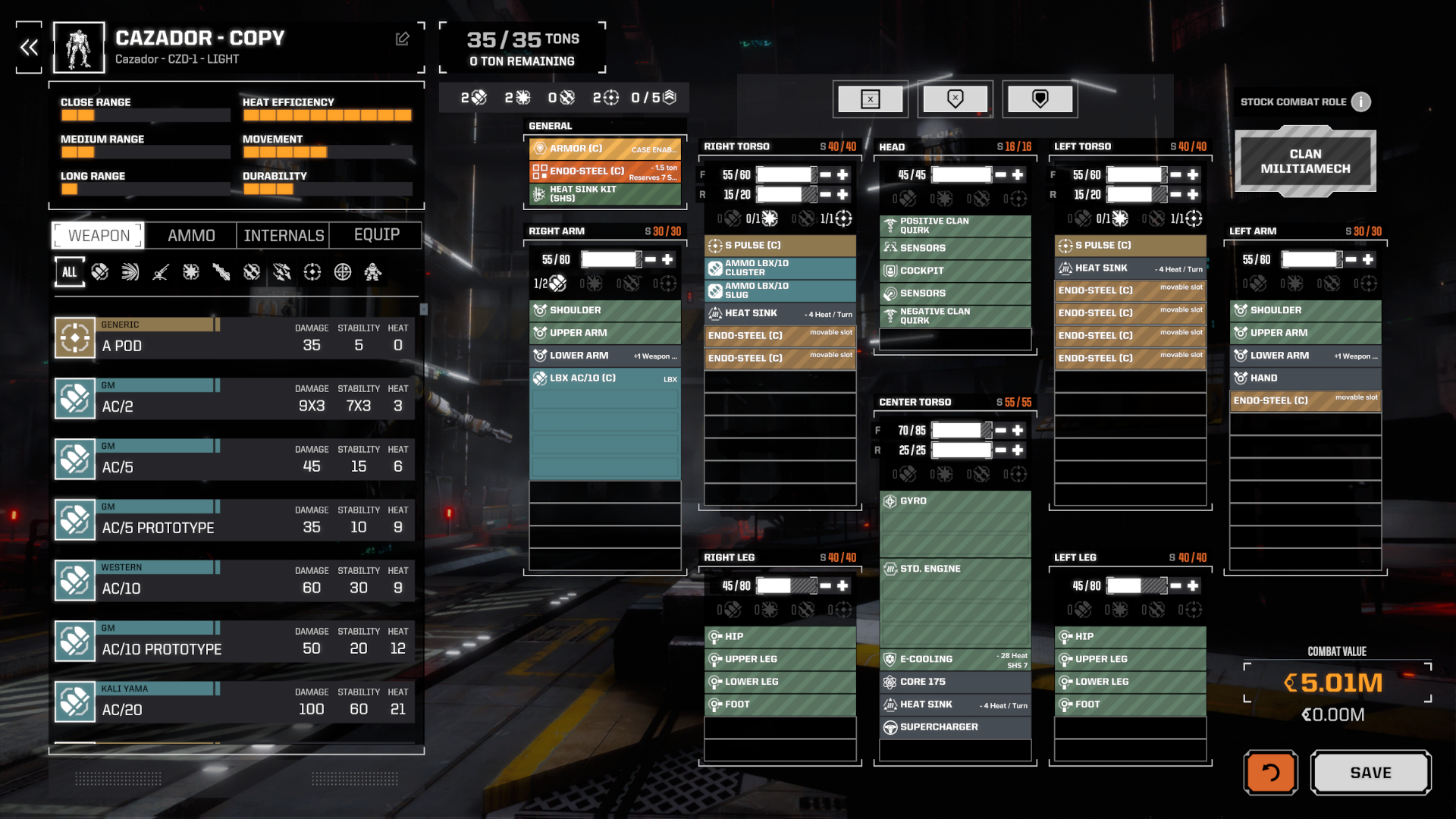 EPT-C-1

General Data
'Mech Type
BattleMech
Class
LIGHT
Weight
35T
Stock Role
Clan IndustrialMech
Stock Specifications
Hardpoints
Speed
5/8/0
Firepower
Max Damage: 52
Max Stability: 8
Max Heat: 0
Durability
Armor: 560
Structure: 291
Heat Efficiency
Sinking: 60
Alpha: 8
Melee
Kick: 35
Punch: 18

Stock Equipment
Engine
Fuel Cell Engine (Fixed)
Core
175
Heat Sinks
Heat Sink Kit (SHS)
E-Cooling
None
Structure
Reptar Rugged Structure (Fixed)
Armor
Industrial Armor
Center Torso
Heat Sink
Left Torso
CASE
Heat Sink
LMG (C)
Ammo MG
Ammo MG
Right Torso
CASE
Heat Sink
LMG (C)
Ammo PAC/8
Ammo PAC/8
Right Arm
PAC/8
Description
Lesser than even second-line BattleMechs (which are at least still full BattleMechs), the Reptar is a rare example of a Clan-grade IndustrialMech used for militia purposes and general police work. If the Reptar enters full combat, something has gone very wrong. Accordingly, it is neither very fast for its size nor well armored. For armament, it has a pair of Light Machine Guns for dealing with infantry and it has a rare ProtoMech AC/8 for the main gun. The Reptar made its way into Deep Periphery armories, somehow, and the Clans rarely if ever field it directly.
Bonuses
Mech Quirk: Industrial Mech
+2 accuracy with physical weapon attacks, +1 bonus hit with physical weapon attacks, +1 bonus hit with punch attacks, -20% charge self-damage, -20% DFA self-damage, -20% stability damage received

Pilot Affinity: Sturdy
Gains 2 extra pilot hits
Factions
Stock Loadout