Conjurer
Jump to navigation
Jump to search
WVR-IIC

General Data
'Mech Type
BattleMech
Class
MEDIUM
Weight
50T
Stock Role
Not-Named Mech
Stock Specifications
Hardpoints
Energy: 3
Missile: 2
Support: 3

Speed
7/10/7
Firepower
Max Damage: 155
Max Stability: 12
Max Heat: 0
Durability
Armor: 760
Structure: 416
Heat Efficiency
Sinking: 60
Alpha: 82
Melee
Kick: 50
Punch: 25

Stock Equipment
Engine
Standard Engine
Core
300
Heat Sinks
Engine Sink Kit (CDHS)
E-Cooling
None
Gyro
Standard Gyro
Structure
Endo-Steel Structure (C) (Fixed)
Armor
Ferro-Fibrous Armor (C)
Center Torso
Jump Jet (S)
Jump Jet (S)
Left Torso
Jump Jet (S)
Jump Jet (S)
Ammo Streak SRM
Streak SRM2 (C)
Streak SRM2 (C)
Right Torso
ER M Laser (C)
ER M Laser (C)
Jump Jet (S)
Jump Jet (S)
Right Arm
L Pulse (C)
Description
The Conjurer is, in all but name, the Wolverine IIC. However, as that word is forbidden in Clan society, it was rebranded as the Conjurer. As befitting its status as a second-line 'Mech, the Conjurer uses a standard engine, though it is constructed on an Endo Steel chassis and uses eight and a half tons of Ferro-Fibrous armor. The Conjurer uses a Large Pulse Laser that is quite accurate and effective at a respectable range. To back that up, it mounts paired ER Medium Lasers and Streak SRM-2s. Ten double heat sinks are able to keep heat under control, though a Conjurer can summon up a heat problem if pressed too hard.
Bonuses
Mech Quirk: Clan Mech
+10% walking distance, +10% sprinting distance, +10% jump distance, +1 accuracy with ranged weapons, -6 heat at the end of the turn, -30 melee accuracy

Pilot Affinity: Evasive
+2 bonus against being hit
Factions
Stock Loadout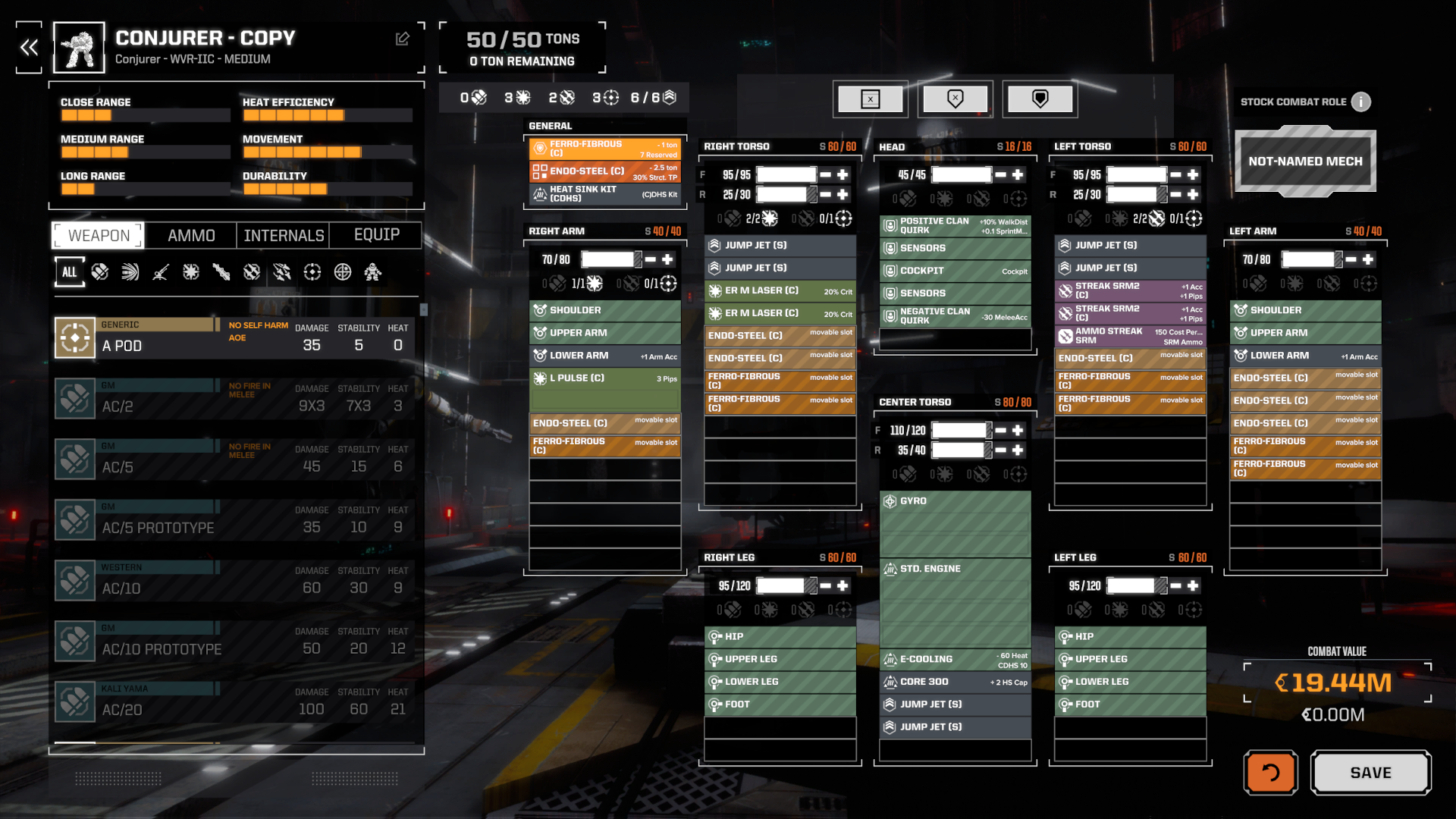 WVR-IIC-2

General Data
'Mech Type
BattleMech
Class
MEDIUM
Weight
50T
Stock Role
Not-Named Mech
Stock Specifications
Hardpoints
Energy: 2
Missile: 2
Support: 2

Speed
8/12/8
Firepower
Max Damage: 142
Max Stability: 18
Max Heat: 0
Durability
Armor: 805
Structure: 416
Heat Efficiency
Sinking: 60
Alpha: 56
Melee
Kick: 50
Punch: 25

Stock Equipment
Engine
XL Engine (C)
Core
350
Heat Sinks
Engine Sink Kit (CDHS)
E-Cooling
None
Gyro
Standard Gyro
Structure
Endo-Steel Structure (C) (Fixed)
Armor
Ferro-Fibrous Armor (C)
Head
FCS Adv TC
Center Torso
Jump Jet (S)
Left Torso
Jump Jet (S)
Jump Jet (S)
Jump Jet (S)
Right Torso
Jump Jet (S)
Jump Jet (S)
Jump Jet (S)
Left Arm
M Pulse (C)
M Pulse (C)
Right Arm
ATM 9 (C)
Ammo ATM
Ammo ATM ER
Ammo ATM HE
Description
The Conjurer was almost completely rebuilt from the ground up for this variant. It uses a 350 XL fusion engine to achieve speeds up to 119 km/h, along with increased jumping capacity that enable it to move up to 210 meters a jump. The weapons are removed to make way for an ATM 9 that has three tons of ammunition to allow maximum flexibility. A pair of Medium Pulse Lasers that are tied to a Targeting Computer round out the weapons. An added half ton of armor brings the armor protection up to the maximum the 50 ton chassis can carry.
Bonuses
Mech Quirk: Clan Mech
+10% walking distance, +10% sprinting distance, +10% jump distance, +1 accuracy with ranged weapons, -6 heat at the end of the turn, -30 melee accuracy

Pilot Affinity: Evasive
+2 bonus against being hit
Factions
Stock Loadout